Why Us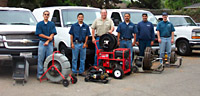 Why call John White Certified Sewer Line Video Inspection?

First and foremost, we are pioneers and leaders in this field of drain inspection. And, with 27 years of drain and rooter experience, when we see a problem inside a drain we never have to second guess at what we're looking at. We've seen and handled it all.

Whatever your inspection reveals about your drains, we will give you an objective analysis of the situation, always in a non-alarming manner, and then recommend the optimum solution.

With the advent of trenchless repair and cured-in-place lining systems, many sewers can be repaired with minimal excavation.

Our field staff are not only expert in Video Inspection, drain and rooter service, they also understand that as a customer you'll have questions and always answer those questions in the best way they know how, making sure that you understand clearly the situation with your drains.

Our work is top of the line because we know exactly what we're doing. We use state of the art fiber optic cabling, video cameras and sapphire lenses. We also use color cameras for greater clarity and make DVD recordings of every inspection.

Although he does not do these repairs himself, thereby avoiding a conflict of interest, John is always willing to recommend honest, qualified contractors when these processes are the appropriate solution to your chronic sewer and drain problems.
---
John White Sewer Line Video Inspection
3517 South Centinella Ave.
Los Angeles, CA 90066
Call: 310-397-5076
admin@sewervideo.com
---
Home • The Hidden Menace • For Realtors • For Homeowners • Do's / Dont's
Newsletter • About John White • About Us • Equipment • Why Us? • Contact