The Hidden Menace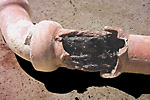 The only part of a property that most people never get to see is the inside of its drains.

Yet problem drains are what often intrude upon the otherwise smooth operation of a home or office in a surprisingly rapid and often unpleasant manner.

What can be done about it? Call us right away for an honest, unbiased appraisal of your sewer lines.

---
John White Sewer Line Video Inspection
3517 South Centinella Ave.
Los Angeles, CA 90066
Call: 310-397-5076
admin@sewervideo.com
---
Home • The Hidden Menace • For Realtors • For Homeowners • Do's / Dont's
Newsletter • About John White • About Us • Equipment • Why Us? • Contact