About Us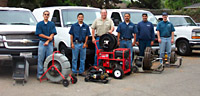 At John White Certified Sewer Line Video Inspection, John has personally trained every service technician, and even the office staff. We're highly skilled not only in the technical ins and outs of the trade, but in John's own personal brand of courteous and effective customer service.

We're always neat and clean, and when our work is finished we'll leave the premises as clean — and sometimes even cleaner than before we started.

We're your friends and neighbors, and we treat you that way.
---
John White Sewer Line Video Inspection
3517 South Centinella Ave.
Los Angeles, CA 90066
Call: 310-397-5076
admin@sewervideo.com
---
Home • The Hidden Menace • For Realtors • For Homeowners • Do's / Dont's
Newsletter • About John White • About Us • Equipment • Why Us? • Contact