About John White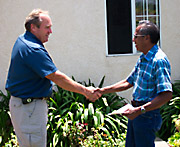 John White owns and operates the business that bears his name. In the drain and rooter business for 27 years, he has worked tirelessly on the qualities that set his business apart from the big "phone book" operators. John pioneered the use of Video Inspection technology for realtors as a tool in the overall inspection process of a property for sale. He does frequent seminars for realtors interested in knowing more about the benefits and uses of his thorough brand of optical drain inspection technology. Basing his actions on the philosophy that, "you're only as good as your last happy customer," John works hard to see to it that every customer is treated like his only customer.

"The way I see it," says John, if you want a customer for life, you have to treat 'em like a friend. You can't just treat them like another service stop. You have to put yourself in their shoes — even when they're up to their ankles in dirty water — and figure out what's best for them and the solution to their particular situation."

A dedicated family man, John is also very active in his community and always goes the extra mile to see how he can be of service to his friends and neighbors — a quality not lost on the many families and businesses he has helped professionally over the last 27 years.

---
John White Sewer Line Video Inspection
3517 South Centinella Ave.
Los Angeles, CA 90066
Call: 310-397-5076
admin@sewervideo.com
---
Home • The Hidden Menace • For Realtors • For Homeowners • Do's / Dont's
Newsletter • About John White • About Us • Equipment • Why Us? • Contact